Dealing with a Hiatal Hernia
posted: Jul. 15, 2019.
A hiatal hernia is when the stomach bulges through an opening in the diaphragm. Some people don't even now that they have a hiatal hernia because it doesn't always produce symptoms; however, some people find out that they have a hiatal hernia once they are dealing with persistent heartburn and indigestion. These symptoms are more likely to occur because a hernia makes it easier for the acids within the stomach to travel back up through the esophagus, which results in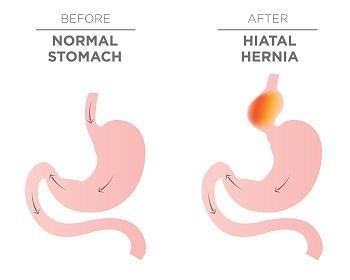 heartburn.
In most cases, self-care treatments and medications are enough to alleviate the symptoms associated with a hiatal hernia; however, if the hernia is large then the patient may require surgery. If you are dealing with persistent or severe indigestion and heartburn there are many reasons why this may be happening. While it doesn't necessarily mean that you have a hiatal hernia it's a good idea to see a gastroenterologist to find out what may be causing your acid reflux.
How to Treat a Hiatal Hernia 
Before treating a hiatal hernia your gastroenterologist will need to diagnose your condition first. There are several tests that can determine whether you may have a hernia. These tests include a barium swallow, an endoscopy and a pH test. Once your GI doctor has determined that you have a hiatal hernia the next step is to create a treatment plan to manage your symptoms.
Again, there are a lot of people with hiatal hernias that don't even know it because they aren't experiencing symptoms. If your hernia isn't causing you problems then treatment is rarely necessary. If you are dealing with gastroesophageal reflux disease (GERD) as a result of your hiatal hernia then there are some lifestyle modifications you can make to reduce your symptoms. These changes include:
Eating smaller meals
Losing excess weight if you are overweight
Avoiding citrus, acidic, and spicy foods
Limiting fried, fatty goods
Limiting caffeine and alcohol
Quitting smoking
Eating about 3-4 hours before bed or lying down
Elevating your head six inches above the rest of your body while sleeping
Avoiding tight clothes, which can put too much pressure on your stomach
You may even choose to take an over-the-counter antacid after eating to reduce stomach acid. Of course, these over-the-counter medications shouldn't be taken for more than two weeks. You gastroenterologist can also prescribe a stronger antacid that you will be able to take whenever you need it to neutralize stomach acid or to block acid altogether.
Hiatal Hernia Surgery 
Surgery for a hiatal hernia is not often necessary; however, if you've been dealing with severe reflux that isn't alleviated with lifestyle changes or medications then surgery may be the only option. If blood flow to the part of the stomach that is sticking through the esophagus is cut off, then surgery will also be required.
If you are dealing with persistent acid reflux and indigestion it's important to talk with your gastroenterologist to find out if a hiatal hernia could be to blame.
Tags: Hiatal Hernia